PVC COMPOUNDS AND MASTER BATCHES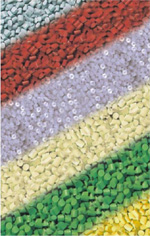 Billion PVC Compounds & Masterbatches are specifically formulated to meet Indian Standards and other standards and are available in a wide range of hardness from very soft to rigid. Quality systems incorporated in every stage of manufacturing-right from raw material procurement and processing to the finished product - assure continuously high quality and reliability of the compounds.

RANGE OF COMPOUNDS
Cable Insulation & Sheathing / Moulding Compound / Transparent, Natural & Colored Compounds / Footwear Compounds / Non-Toxic and Medical Compounds / Bottles and Packaging Compounds / Rigid Compounds / Thermoplastic Elastomers and PVC MASTERBATCHES

CABLE INSULATION & SHEATHING / MOULDING COMPOUNDS
Billion Cable Insulation and Sheathing / Moulding Compounds are specially designed for cables meeting various Indian and international standards. They are also suitable for electrical moulded products. Typical applications are for insulation and sheathing of cables, sleevings, tapes, electrical moulded products etc.
TRANSPARENT, NATURAL AND COLORED COMPOUNDS


Billion Transparent, Natural and Colored Compounds are available is wide range of shore hardness 'A' from 35 to 95 for transparent, natural or colored extrusion and moulding. Typical applications are tubings, tapes, sleevings, hoses, profiles including refrigerator gaskets, beadings and molded products like gaskets for containers, stationery products, handlebar grips, safety wear like goggles, respirators, shrouds, grommets and others.
FOOTWEAR COMPOUNDS


The Footwear Compounds are available in shore hardness 'A' from 48 to 72 The grades available are compact, foam, pearl colored and thermoplastic elastomers. Typical applications are for compact, foam, pearl colored footwear. Thermoplastics Elastomers are also available for compact oil resistant footwear.

NON - TOXIC / MEDICAL PVC COMPOUNDS


Billion Non-Toxic/ Medical PVC Compounds are available in various grades. Typical applications are Urine Bags, Intravenous Tubings, Drip Chambers, Catheters, Saline /Glucose /Blood Bags, Containers, Pouches, Face Masks, Funnels, Nozzles, End Caps, Connectors and others.

BOTTLES & PACKAGING COMPOUNDS


Billion Bottles and Packaging compounds do not impart taste or odor and are available in various impact strengths. Typical applications are bottles for Mineral Water, Mouthwash, Shampoo: Containers, Blister Packing films.

RIGID COMPOUNDS
Typical applications are pipes for potable Water, Drainage, Chemicals, Films and Sheets, Elictrical Conduits, Window Profiles, Siding, Pipe fittings and other molded products.

Avaiable in dry blend / granulated forms.
THERMOPLASTIC ELASTOMERS
Billion Thermoplastic Elastomers have low specific gravity, wide service temperature range, outstanding weather and ozone resistance, excellent compression set, need no vulcanization, oil resistance and are recyclable. Typical applications are automobile components, cables, profiles, window gaskets, channels, sleevings, bushings, handlebar grips, grommets and others
PVC MASTERBATCHES
ELECTRICAL GRADE MASTERBATCHES
Billion Electrical Grade Masterbatches are specially formulated to give excellent insulation properties, light fastness, water resistance, excellent dispersion at high speeds of extrusion and require low dosage to give desired colors. Standard colors available are blood red, yellow, green, black, blue, dark/light grey, white, orange, light/dark pink, brown.
Typical applications are for cables, sleevings, tapes, electrical molded products etc. Other Colors can be made as per requirements.

PVC MASTERBATCHES FOR SOFT COMPOUNDS (MOULDING AND EXTRUSION)
PVC Masterbatches in above colours as given in electrical grade master batches are available for moulding and extrusion of soft PVC compounds.
Other colors can be made as per requirements.
Above compounds can also be tailor - made as per specific requirements.