PVC BRAIDED HOSES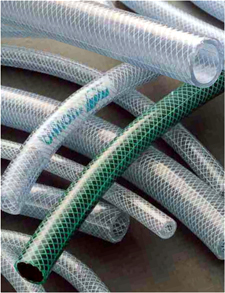 Billion Braided Hoses are made from high quality thermoplastic compound and reinforced (braided) with high tenacity synthetic yarn (crosswise - lengthwise).
The excellent ply adhesion and bonding between the inner and upper layer of PVC ensures a durable pipe. The braiding gives the hose high strength and resistance to withstand high pressure and elongation. Our production of hoses meets the most stringent operational requirements. Transparent hoses facilitate the location of blockage in use. The smooth inner bore prevents any build - up and offers minimum resistance to flow. The working pressure of the hose is dependant on temperature and is lowered with increase in temperature. Billion
Braided Hoses are available in various grades as Clear Transparent, Super Spray (Car Washing), Agricultural Pesticide, Green Garden Water, Sanitary, Fire Fighting, Rock Drill, Welding etc.
FEATURES
Withstand high pressure
Light weight compared to rubber hose
Clear transparent
Working temperature upto 60 o C
High flexibility
Long working life and durability
Chemical and abrasion resistance
Excellent ply adhesion
Crush and kink resistance
Opaque if required
Rodent proof
GRADES
Billion PVC Flexible Clear Transparent Hoses - Code BT
These hoses are avalable in inside diameter 5mmto 50mm and outside diameter10mm to 60mm respectively in continuous lengths for easy handling. They are suitable for conveying air, water, chemicals, powders/granules, gases etc.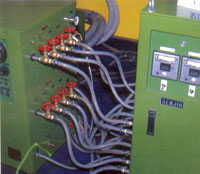 APPLICATIONS
In pneumatic tools and equipment, compressor, conveying Chemicals, Powders, Liquids, Compressed air / gases
Washing machines, domestic geysers and other appliances
Fire fighting and hydraulic systems
General construction work, road building, tunneling
Spraying of water based paints, insecticides, pesticides etc
Metallic and non-metallic ore mines
Gardening, Horticulture etc.
Workshops with chipping, grinding and riveting machines
Supply line for factory water, waste water, drainage, chemicals, lubricating oil etc.
Service stations, garages for inflating tyres.
Billion Super Spray Hoses (Car Washing Hoses) - Code BS
These are double braided and suitable for higher, pressures than those of above hoses.
They are available in I.D. 6 mm, 8 mm, 10 mm & 12.50 mm in standard length of 60 metres, in yellow colour.
They are suitable for high pressure spraying of water, water based chemicals, insecticides, weedicides etc. in plantations, forestry, vineyards, parks, maintenance and agricultural applications using hand or power driven pumps; car washing in garages, service stations for automobiles, high pressure pneumatic lines in mines, compressors, excavators.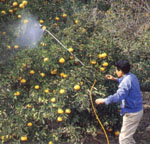 Billion Agricultural Pesticide Hoses-Code BS
These are available in 7mm I.D. x 13mm O.D. in standard length of 100 metres in opaque, pearl and blue colours
They are suitable for spraying water based chemicals, insecticides, fungicides, weedicides etc. in plantations, parks, vineyards, forestry and others for spraying by hand or power driven pumps.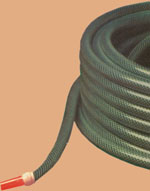 Billion Garden Hoses (Transparent Green) - Code BG
These are available is transparent green colour in 3 sizes I.D. 1/2" (12.5 mm) 3/4" (20 mm) and 1" (25 mm). They are available in standard length of 30 metres. Also available are export quality hoses in green / black colours.
The applications are in gardens, parks, orchards, forestry, plantations, vineyards, construction work, irrigation projects etc.
Billion Sanitary Hoses - Code SH
These are available in I.D. 8 mm, 8.5 mm & 9 mm in crystal clear, opaque white, ivory and black colour in standard length of 100 metres The applications are in bathroom fittings, sanitary connections etc.
Billion Fire Fighting Hoses - Code FH
These are available in 12.50 mm ( 1/2" ) I.D. in standard length of 100 metres, in black colour.

Billion Rock Drill Hoses - Code BD
These are medium duty transparent hoses available in I.D. 20 mm and 25 mm in standard length of 20 metres.
The hoses are replacing rubber hoses in jack hammer applications in quarries, granite and marble mines, drilling in hard surfaces like rocks, concrete etc. They are ideal with tractor mounted compressors such as of K. G. Khosla , VT4 type of Atlas- Copco.
Billion Welding Hoses - Code BW
These are available in I.D. 8 mm and 10 mm in standard length of 100 metres, in red and blue colours for identification - red colour for acetylene and blue colour for oxygen and other non-combustible gases.
The hoses are suitable for welding by hand and machine, brazing, cutting and other operation in industries, workshops, garages, service stations, refineries, steel mills, ship building, repairs and breaking yards etc.
Hoses other than above mentioned I.D. and OD, in different lengths and colours can be tailor made for bulk requirements.
Specifications
Description

Size in mm

| | | |
| --- | --- | --- |
| I.D. | | O.D. |

Length/ Roll in metres

Billion PVC Flexible Clear Transparent Braided Hoses - Code BT

| | | |
| --- | --- | --- |
| 5.00 | | 10.00 |
| 6.00 | | 12.00 |
| 8.00 | | 14.00 |
| 10.00 | | 16.00 |
| 12.50 | | 19.00 |
| 15.00 | | 22.00 |
| 20.00 | | 28.00 |
| 25.00 | | 34.00 |
| 31.00 | | 40.00 |
| 38.00 | | 48.00 |
| 50.00 | | 62.00 |

100

100

100

100

100

50

50

50

30

30

30

Billion Super Spray Hoses/Car Washing Hoses (High pressure) Yellow Colour - Code BS

| | | |
| --- | --- | --- |
| 10.00 | | 20.00 |
| 12.50 | | 22.50 |

Billion Agricultural Pesticide Spray Hose ( Blue Colour) - Code BS

| | | |
| --- | --- | --- |
| 7.00 | | 13.00 |

Billion Flexible Water/ Garden Hoses (Transparent Green Colour) - Code BG

| | | |
| --- | --- | --- |
| 12.50 | | 16.00 |
| 20.00 | | 25.00 |
| 25.00 | | 31.00 |

Billion Flexible Sanitary Hose in Crystal Clear & Opaque Ivory, Black & White Colours - Code SH

| | | |
| --- | --- | --- |
| 8.00 | | 14.00 |
| 8.50 | | 14.00 |
| 9.00 | | 15.00 |

Billion Fire Fighting Hoses in Black Colour - Code FH

| | | |
| --- | --- | --- |
| 12.50 | | 19.00 |

Billion Medium Duty Rock Drill Hoses in Transparent Colour - Code BD

| | | |
| --- | --- | --- |
| 20.00 | | 28.00 |
| 25.00 | | 34.00 |

Billion Flexible Welding Hose (Red & Blue Colours) - Code BW

| | | |
| --- | --- | --- |
| 8.00 | | 14.00 |
| 10.00 | | 16.00 |